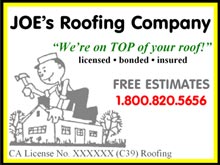 I received a bid for a new roof on my house last week here in California. At the top of his roofing bid form and at the bottom of the advertisement from him that I responded to, this very large roofing contractor proudly displayed "bonded and insured".
Behold... two common mistakes have just been made that we find regularly from California Contractors who purchase our contractors forms.
MISTAKE NUMBER ONE- ADVERTISING YOU ARE BONDED!
California Contractors Law (section 7027.4 of the CA B&P) prohibits including any reference to the contractor being "bonded" in any advertisement, or on any company "paperwork" that could reasonable be considered "advertising", if the bond being refered to is the standard license bond that all California Licensed Contractors must have. Simply stated, unless you have a "special" bond other that the license bond, you are not allowed to mention that you are bonded!
Contractor bid forms or estimate forms, proposals, bid proposals, door hangers, letterheads and most of the other paperwork CA contractors use between themselves and their customers might well be considered an "advertisement" in many cases so it is best to leave the word "bonded" off these as well.
A CSLB disciplinary bond is not a "special" bond!
If you are required to carry a bond, in addition to the standard license bond, as a result of a CSLB disciplinary action against you, the same section of CA Contractors Law also prohibits you from advertising this bond! You have to wonder why any contractor would WANT to tell people about their disciplinary bond, you know the one they got from doing something WRONG, but apparently some do.
MISTAKE NUMBER TWO- ADVERTISING YOU ARE "INSURED"!
A few years ago, California added to the law, (section 7027.4) that has been in place for years, making the word "bonded" a no-no in advertising. These "new" laws state a CA licensed contractor can no longer advertise that they are "insured" unless they state what type of insurance it is!
So, any reference to "insured" in your company ads and forms must, for example, be stated as "commercial general liability insurance" or "worker's compensation insurance" or better yet "We carry Commercial General Liability and Worker's Compensation Insurance for your protection!"
Silly mistakes like this can get you into trouble with CSLB and if included on your California contractors forms, can interfere with your legal rights as a contractor!
Questions or Comments? Don't be shy! Comment below.