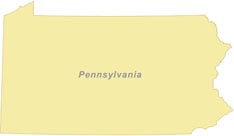 Pennsylvania Contractors, welcome to contractor regislation and the state laws that go along with it! This is a bad thing... right? . . . WRONG! In every state where contractor registration and/or licensing has been written into law, suprising things have occured:
Those "unfair competitors" who operate outside the rules and because of this are able to offer cheaper prices, will start to be "weeded out".
Overall job quality will go up as these unlawful, fringe contractors can no longer do business.
Consumers repect your industry more because you are now all registered professionals... sounds corny but is true!
You will be able to get more for your work as the "playing field" is leveled and prices stabilize.
As of July 1, 2009, ALL home improvement contractors in PA must be registered and must have contracts and other paperwork that comply with the many requirements set forth in the new PA Home Improvement Consumer Protection ACT (PA HICPA) for all jobs over $500.
PA Home Improvement Contractors will now have to provide the homeowner a written contract that meets all of the requirements of the new laws. If the contract forms you use do not meet these new requirements, PA courts will view the contract as invalid and unenforceable. What does this mean?
Simply stated, if you want to protect your legal rights and remedies to get paid for the work you do, you MUST have a contract that complies with the PA HICPA!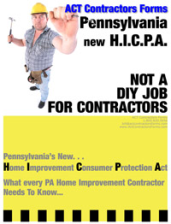 This is no joke! PA Contractors!
I have put together an informational pamphlet that will tell you everything you need to know about the new PA contractor requirements including whether you need to register and if so how and what the new laws mean for your business.
to download a copy of this PA HICPA pamphlet FREE....CLICK HERE!