Construction Contracting Forms for your contracting business. - 2023 versions available now!
ACT Contractors Forms offers 4 different construction form solutions for your construction business.
WE OFFER OUR STAND ALONE SOFTWARE PROGRAM... ACT CONTRACTORS FORMS SOFTWARE
WE OFFER TRADITIONAL, CUSTOM PRINTED, 2-PART FORMS (white-yellow copies)
WE OFFER PDF FORMS THAT CAN BE EMAILED TO YOU IN JUST A FEW MINUTES!
WE OFFER CUSTOM FORM SERVICES... WE CAN MAKE ANY FORM YOU NEED FOR SOFTWARE, PDF, OR FOR PRINTING!
THIS IS A LONG PAGE, SO BE SURE TO SCROLL DOWN TO THE BOTTOM!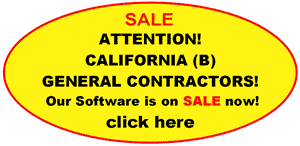 ACT Contractors Forms Software... Our Most Popular Product!
Whether your contracting business is booming or whether your contracting business is slow, ACT CONTRACTORS FORMS SOFTWARE will help you pay attention to the details and make your construction business a success...whatever the economy does. Our software is designed by contractors with the needs of contractors in mind. We know that your forms need to help you get and keep your customers. We know that your forms need to protect you from those "Customers From Hell" who are just waiting in line to make your life difficult with complaints and legal hassles. And we know how important your time is so everything we sell is made to make you more efficient and to make life easier for you- Designed to make your contracting business a success. We know how good our products are, so we'll let our forms speak for themselves.
OUR FULL PACKAGE FORM SOFTWARE IS CUSTOM MADE FOR YOU:
We customize the form software MADE EXACTLY FOR YOUR BUSINESS when you order our custom software package. We do not pull your software from a shelf. The reason we offer this is that we want you to spend your time using the software to make you money. We don't want you to have to spend your time putting in things like your company information and LOGO. We have already done that for you! Our custom form software is ready for you to use! Don't worry! You can still change your LOGO or other information on the custom version just like you can on any other version.
OUR FORM SOFTWARE IS EASY TO LEARN AND USE:
We have done all the "grunt" work for you so the learning curve for our software is practically nonexistent. The interface is simple and intuitive. What you see on screen is what you get when you are ready to print the form. The software comes with a tutorial to teach you the basics and a full, searchable online help file. Errors are a thing of the past because you don't print the form until it looks perfect on screen! And if you need help, we will be glad to answer any of your technical questions, check out our support page on this site.
OUR FORM SOFTWARE LETS YOU CHANGE OR ADD ANYTHING YOU WANT:
With our software, you can change anything you want on any or all the forms. You can add job pictures to any form directly from a digital camera or indirectly from a scanned photo. Roofers, don't give away jobs to other contractors because your bid doesn't measure up? Just take a digital camera on the roof with you during the inspection and put these photos on your "Roofing Inspection Photo Sheet" form included in The Roofers Forms software package. No matter what the problem is on the customers roof, any damage will look one thousand times worse on these pictures. You'll be amazed at the results. Other contracting trades can get similar results with using our "Inspection Photo Sheet" form in their business.
REMEMBER: Every form we sell can be viewed on this website using Adobe Acrobat Reader.
IMPORTANT: You must have Adobe Acrobat 7.0 or later installed to view our sample files. This is a free download from Adobe. Click on the link below to reach their download page.

Features of our Contractors Forms Software...
FEATURES

ACT Forms Software

Fill Out & Print Forms on your

PC/Laptop/Tablet or

MAC Running Windows

YES

Print Blank Forms on your

PC/Laptop/Tablet or

MAC Running Windows to fill out by hand

YES

Use on a laptop in the field with a portable printer

YES

Unlimited Form Printing.. no usage fees

YES

Change Company Info... Add, change, or delete anything on the forms.. or create new forms

YES

California Contractors Law Version

YES

New York, Texas, Nevada, Washington, Florida, Georgia, Louisiana, Arizona, Oregon, Georgia, Pennsylvania AND

VERSIONS FOR EACH OF THE 50 STATES!

YES

Version made specifically for General Contractors, Roofing Contractors, Painting Contractors, Electricians, Plumbers and Other Trades

YES

Works with Windows 8, 10, 11

YES

Full Version Includes 70+ forms and contracts, EVERY FORM YOU WILL NEED!

YES

Stand Alone Software Program with the features you need.

YES

Save completed forms to Hard Drive

YES

Add, delete, or change anything on forms or create forms from scratch

YES

We can "burn" a CD with your LOGO, Company Name, & other Company Information

YES

Don't Tell... SHOW! Add your Job Photos directly to any form from your digital camera

YES

Add your Company LOGO to any form

YES

Convert any Form to PDF to easily and securely transmit the form by EMAIL to your customers WITH or WITHOUT DIGITAL SIGNATURES for a PAPERLESS FORM SOLUTION!

YES

Print Forms in color, WITH PHOTOS!

YES

Spell check Forms

YES

Create Other Documents like brochures, business cards, door hangers etc.

YES