General Contractors Construction Form Software. ACT Contractors Forms Software For General Contractors - FODG - 2023 versions available now!
Want to go PAPERLESS? IT'S EASY with our software AND best of all... You don't need an EXPENSIVE INTERNET BASED SUBSCRIPTION!
This is a long page, samples and pricing is below so be sure to scroll down to the bottom!
Over 25 years keeping General Contractors SAFE, LEGAL & PROSPEROUS!
Easy to learn, easy to use software program for your windows PC, or MAC running Windows, that contains all the forms and contracts any General Contractor will need for their business. The included forms are designed from both legal sources and with the help and input of experienced, successful General Contractors to make you more efficient by getting more done in less time and by being more accurate with your paperwork. All included forms are designed to work together to improve your image with the customer, help eliminate legal hassles, and to help you get more of the jobs you bid on. ACT will let our forms speak for themselves. Just click on the image links below to see samples of any of the forms included in this software package.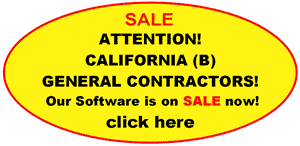 GENERAL CONTRACTORS
In the tough, competitive, Construction Business... you can benefit from the competitive edge ACT Contractors Forms Software gives you over your competition!
Frequently Asked Questions...

CLICK the Plus Sign to the Right to EXPAND
FEATURES

ACT Forms Software

Fill Out & Print Forms on your PC/Laptop/Tablet or

MAC Running Windows

YES

Print Blank Forms on your PC/Laptop/Tablet or

MAC Running Windows to fill out by hand

YES

Use on a laptop or Windows Tablet in the field with a portable printer

YES

Unlimited Form Printing.. no usage fees OR YEARLY SUBSCRIPTIONS

YES

Change Company Info... Add, change, or delete anything on the forms.. or create new forms

YES

California Contractors Law Version

YES

New York, Texas, Nevada, Washington, Florida, Georgia, Louisiana & Oregon Contractors Law Version as well as

VERSIONS FOR EACH OF THE 50 STATES!

YES

Version made specifically for General Contractors (and Other Trades TOO)!

YES

Works with Windows 8, Windows 10 and Window 11

YES

Full Version Includes 70+ forms & contracts, EVERYTHING YOU SEE BELOW & MORE!

YES

Stand Alone Software Program with the features you need.

YES

Save completed forms to Hard Drive

YES

Add, delete or change anything on forms or create forms from scratch

YES

Includes SET UP & ADDING your LOGO, Company Name, & other Company Information

YES

Don't Tell... SHOW! Take your Digital Camera with you during your bid inspection.... then add the photos directly to your bid form.

YES

Convert any Form to PDF to easily and securely transmit the form by EMAIL to your customers and include a digital signature for a paperless option.

YES

Print Forms in color, WITH PHOTOS!

YES

Spell check Forms. Add a Digital Signature field for signing an emailed form.

YES

Create Other Documents like brochures, business cards, door hangers etc.

YES
Our software is a Stand Alone program that does not require any other software like Microsoft Word or Excel to operate. Our software has many more features than Word Processor or spreadsheet (Microsoft Word, Excel, etc.) based template forms that grow longer as you type them in. We do not scare your customers with 10 page contracts like they do! After all, who wants to sign a document for a small paint job that is longer than the documents the home owner signed to BUY THEIR ENTIRE HOME! Word Based forms make a "home grown" looking document that customers distrust. Our software makes a professionally typeset document that looks better than a commercial print shop can do!
Available in 2023 versions legally specific for ALL 50 STATES including CALIFORNIA, Nevada, Florida, Texas, Louisiana, Georgia, Washington, Oregon, New York state versions. Each of the versions of our software is Trade Specific and State Specific! Our forms are not GENERIC. and are specific to roofing with the things a Roofing Contractor needs! Whenever state law changes, we immediately update our forms so you will always get the most current forms possible.
Our software allows you to easily change and modify the forms any way you wish!
Fill Out the form on screen, then print the completed form on plain paper or carbonless paper- we'll show you exactly how. You do not have to lose the convenience of NCR Carbonless forms when using our software!
ADD Digital Signatures that your customer can sign from an emailed form.
Software is custom made for you with your company information, names, LOGO etc. already included on each form to save you time and get you up and running quickly... but you can change this whenever you need to!
Costs less than the price of 1.5 hours in front of most construction attorneys!
And it's so EASY, EASY, EASY to use!!!
Give your Company the Image with your potential customers that will make your bid the WINNING bid! Get a leg up over your competition by using ACT Contractors Forms Software For Roofing Contractors!
Minimum
Windows 7(32 bit or 64 bit), Windows 8(32 bit or 64 bit), Windows 10(32 bit or 64 bit).
2 GB RAM minimum
8GB free hard disk space for full installation
DVD Drive or OPTIONAL USB 2.0 or USB 3.0 port for Flash Drive Installation or Broadband Internet for OPTIONAL Download Installation.
1024X768 resolution or higher.
Additional disk resources and memory are required when editing large or complex documents.
Windows compatible printer (inkjet or laser).
PC Running Windows
Apple Computer with OS 10.7 or later RUNNING WINDOWS ON YOUR APPLE!
Optional
Color printer.
Duplex Printer is supported.
TWAIN compatible scanner and/or digital camera.
Broadband Internet account and connection for optional Download Installation and updates.
Note: Apple computers are not directly supported by ACT Forms Software. See Frequently Asked Questions for a work around.
ALL STATES INCLUDE MOST OF THESE FORMS. INDIVIDUAL STATES MAY CONTAIN OTHER REQUIRED FORMS. OF COURSE, EVERY STATE HAS CHANGES TO COMPLY WITH ALL CURRENT LAWS. FOR EXAMPLE, SOME STATES DO NOT ALLOW T&M WORK FOR HOME IMPROVEMENT (RESIDENTIAL) SO THOSE STATES WILL NOT HAVE THAT TYPE OF CONTRACT.
FOR AN EXACT LIST OF GENERAL CONTRACTOR FORMS INCLUDED
WITH THE SOFTWARE PROGRAM FOR YOUR STATE,
CLICK ON YOUR STATE LISTED TO THE LEFT FOR A DETAILED CATALOG
CONSTRUCTION BID FORMS (11 forms)
BP1-BID PROPOSAL

BP2-BID PROPOSAL FOR SUBCONTRACT WORK

CCB-CONSTRUCTION COST BREAKDOWN BY PHASE COMPLETED

ESTIMATE-LINE ITEM ESTIMATE SHEET THAT CALCULATES

ESTIMATE_LONG-SAME AS ESTIMATE EXCEPT ONE LEGAL SIZED PAGE

IPS-INSPECTION PHOTO SHEET

JRS-JOB REFERENCES SHEET

PSH-JOB PLANNING SHEET

PSHF-FENCING JOB PLANNING SHEET

RFB-REQUEST FOR BIDS FROM SUBCONTRACTORS

RFM-REQUEST FOR MATERIAL PRICES FROM MATERIAL SUPPLIERS
CONSTRUCTION BILLING FORMS (6 forms)
INV-CONTRACT INVOICE WITH CHANGE ORDER BILLING

INV2-STANDARD INVOICE

INVR-CONTRACT INVOICE WITH CHANGE ORDER BILLING AND RETENTIONS

REC-RECEIPT

STM-STATEMENT OF ACCOUNT

T&M-TIME AND MATERIAL DOCUMENTATION AND INVOICE
CHANGE ORDERS AND EXTRA WORK ORDERS (7 forms)
CO1-CHANGE ORDER FROM CONTRACTOR FOR APPROVAL BY OWNER

CO2-EXTRA WORK ORDER FROM CONTRACTOR FOR APPROVAL BY OWNER

CO3-CHANGE ORDER FROM A SUBCONTRACTOR TO A GENERAL CONTRACTOR FOR THEIR APPROVAL

CO4-EXTRA WORK ORDER FROM A SUBCONTRACTOR TO A GENERAL CONTRACTOR FOR THEIR APPROVAL

CO5-CHANGE ORDER FROM THE GENERAL CONTRACTOR TO A SUBCONTRACTOR

CO6-EXTRA WORK ORDER FROM THE GENERAL CONTRACTOR TO A SUBCONTRACTOR

COL-CHANGE ORDER LOG TO KEEP TRACK OF ALL CHANGE ORDERS ON A PROJECT
COMMERCIAL-NEW CONSTRUCTION CONTRACTS (6 forms)
CPF- COST PLUS FIXED FEE CONTRACT

CPP- COST PLUS PERCENTAGE CONTRACT

GC1- CONSTRUCTION CONTRACT

PRC-CONSTRUCTION PROPOSAL/CONTRACT

TMC- TIME AND MATERIAL CONSTRUCTION CONTRACT

RC5-T&M ROOFING CONTRACT FOR COMMERCIAL/NEW CONSTRUCTION
CONSTRUCTION CONTRACTS FOR HOME IMPROVEMENT (4 forms)
FE3-HOME IMPROVEMENT CONTRACT FOR FENCING

GC3- HOME IMPROVEMENT CONTRACT

HIP-HOME IMPROVEMENT PROPOSAL/CONTRACT

GC5-HOME IMPROVEMENT PROPOSAL/CONTRACT FOR JOBS PAID ON A TIME & MATERIAL BASIS
3-DAY CANCELLATION FORM AND OTHER CONTRACT ADDENDUMS (16 forms)
ADM-ADDENDUM FOR MATCHING EXISTING CONDITIONS AND FINISHES ON THE PROJECT

CONTRACT ATTACHMENT FORM FOR 3-DAY RIGHT TO CANCEL

CNW-WAIVER OF 3-DAY RIGHT TO CANCEL

COW-COST OF WORK ADDENDUM FOR TIME & MATERIAL CONTRACTS

COW2-COST OF WORK ADDENDUM FOR COST PLUS CONTRACTS

CPS-CONTRACT PAYMENT SCHEDULE ADDENDUM FOR LARGE JOBS

CPS2-CONTRACT PAYMENT SCHEDULE ADDENDUM FOR LARGE JOBS WITH RETENTION

CS1-CONTINUATION ADDENDUM TO ADD WRITING ROOM TO ANY FORM

CS1L-LEGAL SIZE CONTINUATION ADDENDUM

HAZ-HOLD HARMLESS ADDENDUM FOR HAZARDOUS MATERIALS

HHR-HOLD HARMLESS AGREEMENT FOR RECOMMENDATIONS MADE BY THE CONTRACTOR THAT ARE REFUSED BY THE PROPERTY OWNER

JCA-JOINT CONTROL ADDENDUM FOR JOBS PAID BY FUNDING CONTROL

LCN-LIEN CONTRACT NOTICE

MLST-LISTING OF MATERIAL SUPPLIERS ON A JOB

PAS-PROJECT ALLOWANCES ADDENDUM

SLST-LISTING OF SUBCONTRACTORS WORKING ON A JOB
LIEN RELEASES (6 forms)
CLR-CONDITIONAL LIEN RELEASE FOR FINAL PAYMENTS ON A PROJECT

CLRP-CONDITIONAL LIEN RELEASE FOR PROGRESS PAYMENTS ON A PROJECT

COM-COMPLETION CERTIFICATE CUSTOMER APPROVAL OF THE JOB

LLR-LABOR LIEN RELEASE FOR WORKERS ON A JOB

ULR-UNCONDITIONAL LIEN RELEASE FOR FINAL PAYMENTS ON A PROJECT

ULRP- UNCONDITIONAL LIEN RELEASE FOR PROGRESS PAYMENTS ON A PROJECT
MISCELLANEOUS CONSTRUCTION BUSINESS FORMS (13 forms)
ENV-MATCHING #10 BUSINESS ENVELOPE

CCA-CREDIT CARD AUTHORIZATION FORM

DFR-DAILY FIELD REPORT FORM FOR SUPERVISOR

DR1-FOR PROJECT MANAGER

FAX-FAX COVER SHEET

LTH-MATCHING LETTERHEAD

MEM-MEMORANDUM FORM

PO1-PURCHASE ORDER

RFI-REQUEST FOR INFORMATION USUALLY FROM THE JOB SPECIFIER

RFT-REQUEST FOR TECHNICAL INSTRUCTIONS USUALLY FROM MATERIAL MANUFACTURERS

SUB-SUBMITTAL FORM FOR SUBMITTING SAMPLES TO ARCHITECT OR OTHER SPECIFIER

TRN-TRANSMITTAL

WTS-WEEKLY TIME SHEET/CARD TO DOCUMENT EMPLOYEE HOURS
SUBCONTRACT FORMS (5 forms)
BC1-SUBCONTRACTOR BACK CHARGE NOTICE FORM

NTP-NOTICE TO PERFORM

SC1-SUBCONTRACT AGREEMENT BETWEEN YOU AND YOUR SUB

SC2-SUBCONTRACT AGREEMENT WITH THE INSURANCE INDEMNITY CLAUSE

SC3-SUBCONTRACT AGREEMENT YOU ARE THE SUBCONTRACTOR
LIMITED LABOR WARRANTIES (2-forms)
CWC1-LIMITED WORKMANSHIP WARRANTY FORM IN CERTIFICATE FORMAT

WC1-LIMITED WORKMANSHIP WARRANTY FORM
INDEPENDENT CONTRACTOR OPTIONAL ADD-ON (5 forms)
ICA-INDEPENDENT SALESPERSON AGREEMENT FOR SALESPEOPLE WORKING FOR YOUR COMPANY GIVEN A 1099 AT THE END OF THE YEAR

ICA2-BLANKET INDEPENDENT SUBCONTRACTOR AGREEMENT FOR SUBS WORKING FOR YOUR COMPANY GIVEN A 1099 AT THE END OF THE YEAR

GC2-COMMERCIAL/NEW CONSTRUCTION CONTRACT FOR USE BY A COMPANY SALESPERSON

GC4-RESIDENTIAL HOME IMPROVEMENT CONTRACT FOR USE BY A COMPANY SALESPERSON

GC4I-INSURANCE PROCEEDS RESIDENTIAL HOME IMPROVEMENT CONTRACT FOR USE BY A COMPANY SALESPERSON
INSURANCE RESTORATION OPTIONAL ADD-ON (23 forms)
ADC-AUTHORIZATION TO DISPOSE OF DAMAGED ITEM(S)

AOI-AUTHORIZATION OF INSURED CONTINGENCY AGREEMENT

AOIC-

AUTHORIZATION OF INSURED CONTINGENCY AGREEMENT FOR COMMERCIAL PROJECTS

AOI-ALL-AUTHORIZATION OF INSURED CONTINGENCY AGREEMENT WITH RESCISSION NOTICE AND CANCELLATION BY CUSTOMER

REIMBURSEMENT

AOINC-

AUTHORIZATION OF INSURED CONTINGENCY AGREEMENT WITH RESCISSION NOTICE

AOINC1-

AUTHORIZATION OF INSURED CONTINGENCY AGREEMENT WITH PROVISION FOR CUSTOMER CANCELLATION REIMBURSEMENT

ARI-AUTHORIZATION TO RELEASE PERSONAL INFORMATION

ARIM-AUTHORIZATION TO RELEASE MORTGAGE INFORMATION FOR DIRECT PAY

ARII-AUTHORIZATION TO RELEASE INSURANCE INFORMATION FOR DIRECT PAY

BP1I-BID PROPOSAL FORM FOR INSURANCE WORK

CDMA-INSURANCE WORK COMPLETION CERTIFICATE

DMA-SIMPLE AUTHORIZATION AND AGREEMENT TO PERFORM DAMAGE MITIGATION

DMA2=LONG FORM DAMAGE MITIGATION AGREEMENT FORM USUALLY FOR WATER DAMAGE MITIGATION FROM FLOODS

DSI-DISASTER SIGN IN SHEET FOR WORKER DOCUMENTATION

EQL-EQUIPMENT LOG TO DOCUMENT DRYING AND DEHUMIDIFICATION EQUIPMENT

USAGE

FAC-FILING AN INSURANCE CLAIM WORKSHEET

GC3I-INSURANCE RESTORATION CONTRACT FOR HOME IMPROVEMENT JOBS

INVD-INSURANCE RECOVERABLE DEPRECIATION INVOICE

MOLD-MOLD REMEDIATION CONTRACT INCLUDING INFO AND CONDITIONS FOR TESTING

NIH-NOTICE OF ENVIRONMENTAL HAZARDS

SDL STRUCTURAL DRYING LOG TO DOCUMENT DRYING OPERATIONS

PBS-INSURANCE PROCEEDS BREAKDOWN SHEET

SUP1-INSURANCE SUPPLEMENTAL CLAIM FORM (SUPPLEMENT)
MARKETING OPTIONAL ADD-ON (12 forms)
DOOR HANGER FOR MARKETING YOUR BUSINESS

DOOR HANGER FOR MISSED APPOINTMENTS

ADDRESS LABEL

GENERAL CONTRACTOR ADVERTISEMENT

GENERAL CONTRACTOR COMPANY BROCHURE

GENERAL CONTRACTOR BUSINESS CARD

GENERAL CONTRACTOR ENVELOPE

GENERAL CONTRACTOR ADVERTISEMENT FLYER

GENERAL CONTRACTOR LETTERHEAD

GENERAL CONTRACTOR LOGO

GENERAL CONTRACTOR ADVERTISEMENT POSTER

GIF-GENERAL CONTRACTOR INFORMATION LABEL FOR MATERIALS USED
Included in ACT Forms Software for General Contractors
(note that all samples are California Versions and that forms in

red
are California only)
CLICK ON ANY UNDERLINED DESCRIPTION BELOW TO SEE A SAMPLE.
Click! To see our Contract Guide!


Construction Contracts, Home Improvement Contracts for General Contractors: (15+ forms)
Warranty Forms for Contractors: (2 forms)
Contract Management Forms for Construction: (24 forms)
General Contractor Bid Forms, Subcontractor Bid Forms: (11 forms)
Contractors Legal Forms and Invoices:
MISCELLANEOUS OPERATIONAL FORMS
Optional Marketing Package includes Templates for Creating the Following:
Company Brochure Template
Display Ad Template
Classified AD Template
Price Guide Template

ACT Forms on Disc For General Contractors Pricing- ALL 50 STATES
BOUGHT A FULL VERSION OF OUR SOFTWARE AND NEED ANOTHER TRADE IN ADDITION TO ROOFING?
ADD A SECOND TRADE TO ACT CONTRACTORS FORMS SOFTWARE FOR $200 MORE!
BOUGHT A FULL VERSION OF OUR SOFTWARE AND NEED FORMS FOR ANOTHER STATE

?
ADD A SECOND STATE

TO ACT CONTRACTORS FORMS SOFTWARE FOR ONLY $200 MORE!
Description

SKU #

Price

DELUXE CUSTOM CALIFORNIA VERSION- ACT Contractors Forms Software for California General Contractors (B) with every form- Customized- we place your company information/LOGO on each form & includes the report on "How to Print Your Own Carbonless Forms Right From Your Own PC" Free. This version meets the current, 2023, California State contractors laws (CSLB).... OUR MOST POPULAR FORM SOLUTION FOR CALIFORNIA GENERAL CONTRACTORS! THOUSAND OF CALIFORNIA CONTRACTORS USE OUR SOFTWARE FOR THEIR FORMS and... WE HAVE SOLD A BUNCH OF THESE TO CALIFORNIA ATTORNEYS' TOO!

SPECIAL! FOR A LIMITED TIME GET THIS VERSION WITH ONE OPTIONAL ADD-ON (Insurance, Marketing or Independent Contractor)... FREE! UP TO A $160 VALUE... FREE!

FODG1CA

$429

CUSTOM WASHINGTON, OREGON, FLORIDA, TEXAS, LOUISIANA, NEW YORK, NEVADA and ANY VERSION SPECIFICALLY FOR ANY OTHER OF THE 50 STATES EXCEPT CA - ACT Contractors Forms Software for General Contractors 2023 Version with every form- Specific State Laws- Customized- we place your company information on each form & includes report on "How to Print Your Own Carbonless Forms Right From Your Own PC" Free

SPECIAL! FOR A LIMITED TIME GET THIS VERSION WITH ONE OPTIONAL ADD-ON (Insurance, Marketing or Independent Contractor)... FREE! UP TO A $150 VALUE... FREE!

FODG3

$359

BASIC CALIFORNIA VERSION-ACT Contractors Forms Software for CA General Contractors with the 15 essential forms needed for your business- Customized- we place your company information/LOGO on each form. This version meets the current, 2023, California State contractors laws (CSLB).

FODGBCA

$299

BASIC VERSION FOR ALL STATES EXCEPT CA-ACT Contractors Forms Software for General Contractors IN ALL STATES EXCEPT CA with the 15 essential forms needed for your business- Customized- we place your company information/LOGO on each form. This version meets the current, 2023, LAWS OF YOUR STATE.

FODGB

$279

MINIMUM CALIFORNIA VERSION ACT Contractors Forms Software for California General Contractors with any 5 forms, you choose 5 forms from the list above- Includes a Customized- we place your company information on each form. This version meets the current, 2023, California State Contractors Laws.

FOD5CA

$249

MINIMUM VERSION FOR ALL STATES EXCEPT CA-ACT Contractors Forms Software for General Contractors IN ALL STATES EXCEPT CA - With any 5 forms, you choose 5 forms from the list above- Customized- We place your LOGO and company information on each form. Meets the latest (2023) laws of your state.

FOD5

$229

Optional Insurance Package Add-On includes all the most sought after forms for an Insurance Restoration Contractor. Includes (5) different contingency agreements, releases for direct pay, Insurance Contracts, Recoverable Depreciation Invoice (profit & overhead), supplements (supplemental claims), insurance bid forms that follow Xactimate, Mold Remediation Agreement, Damage Mitigation Agreement (board ups, dry outs and tarping), completion certificates and more...

INSURANCE

$160

Optional Marketing Package Add-On includes templates for making company brochures, newspaper ad templates, templates for making your own door hangers, template to make your own price guide. Includes information on where to buy supplies and also includes suggestions for using these marketing documents in your business.

MARKET

$130

Optional Independent Contractor Package Add-On includes construction specific independent contractor agreements for independent salespersons as well as a "blanket" subcontractor agreement. These are to spell out the terms that create an independent contractor relationship between the contractor and salesmen or subcontractor. These forms are very protective for the Contractor!

INDEPENDENT

$130

Optional Flash Drive Install (for computers/laptops/tablets without DVD drives) COST IS FOR THE HARDWARE

FLASH

$20

Optional Download Install

(SAVE SHIPPING TIME AND CHARGES SO...if you are in a hurry and having physical media is not a problem and you have good broadband internet, THIS IS A GREAT ALTERNATIVE)

DOWNLOAD
PROGRAMMING FEE

$25

Let us show you "How To Print Your Own Carbonless Forms Right From Your Own PC" Shows you how to print your own carbonless forms right from your own PC. Includes what paper to use, where to buy it, how to place it in the printer, how to bind the pages... and more!

*This Report is FREE SEE THE ABOVE SPECIAL OFFER

REPORT

$40 or FREE*