2023 INDEPENDENT SALESPERSON AGREEMENT AND INDEPENDENT SUBCONTRACTORS AGREEMENT FOR CONSTRUCTION CONTRACTORS
Contractors... There can be great advantages in using independent salespeople and installers in your construction business. As an independent, all the responsibilities you would normally have towards an employee, such as taxes, insurance, vehicles, medical...etc., are ON THEM! But... it is extremely important that your business interests are protected and that the so called independent is REALLY independent! This is not a "handshake" situation. You must have a strong, written, "Independent Contractor Agreement" with ALL your independent contractors... whether they are your salespeople or whether they are your installers.
AN INDEPENDENT CONTRACTOR AGREEMENT needs to formalize the conditions of your relationship with the independent party. At a minimum, here are some things an Independent Contractor Agreement should include:
1. The purpose and scope of the engagement… in other words… what services will your independent contractor perform for your company.
2. How long will the term of the agreement last and how can the agreement be terminated. What are grounds for termination of the agreement? Can the agreement be terminated for cause and/or without cause?
3. What are the terms under which the independent party can use your confidential information such as pricing, promotional materials and even your production techniques?
4. How are the leads handled for independent salespeople? What is a dead lead? What about leads generated from your leads such as work requested from friends of your customers? What kind of reports do you require from your salespeople or installers?
5. How will the independent contractor be compensated?
6. What happens when the independent contractor violates the agreement? Are they liable for damages, attorney fees?
7. Important for subcontractors is a non-circumvention agreement so your independent does not "steal" work from you by making deals for extra work directly with your customer.
ACT Contractors Forms offers two independent contractor agreements in editable RTF format that can be used with any word processor program such as Wordpad, Microsoft Works, Microsoft Word, WordPerfect, and Open Office. One independent contractor agreement is for salespersons providing sales and estimation services for your company and one is for installers doing work on your jobs. Click on the images below to see a table of contents and samples of these two agreements.
This Independent Contractor Agreement is available as:
"Instant" editable rft word document

As part of our stand alone software program specifically for your state and your trade... ACT Contractors Forms Software
Click on image or link below to see sample...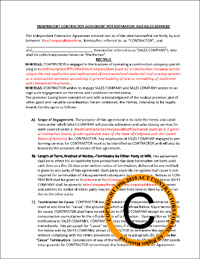 INDEPENDENT CONTRACTOR AGREEMENT FOR ESTIMATION AND SALES SERVICES (9 pages) $60