ACT Forms On Disc For Contractors Software for Electricians, Plumbers, HVAC, Landscaping, and Any Trade- FOD 2023 VERSION AVAILABLE NOW!
This is a long page, samples and pricing is below so be sure to scroll down to the bottom!
Want to go PAPERLESS? IT'S EASY with our form software AND best of all... You don't need an EXPENSIVE INTERNET BASED SUBSCRIPTION!
Over 25 years keeping Contractors SAFE, LEGAL & PROSPEROUS!
Easy to learn, easy to use software program for your windows PC that contains all the forms and contracts any General Contractor will need for their business. The included forms are designed from both legal sources and with the help and input of experienced, successful General contractors to make you more efficient by getting more done in less time and by being more accurate with your paperwork. All included forms are designed to work together to improve your image with the customer, help eliminate legal hassles, and to help you get more of the jobs you bid on. ACT will let our forms speak for themselves. Just click on the product links below to see samples of any of the forms included in this software package.
You will need Adobe Acrobat Reader 7.0 or later to view these samples. Click on the "Get Acrobat Reader" button below to download the latest version.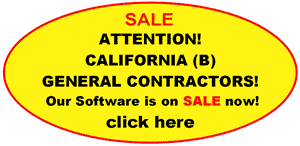 Key Benefits of ACT Contractors Forms Software for Electricians, Plumbers, HVAC Contractors, Landscape Contractors
Our software is a Stand Alone program that does not require any other software like Microsoft Word or Excel to operate. Our software has many more powerful features than Word Processor or spreadsheet (Microsoft Word, Excel, etc.) based template forms that grow longer as you type them in. We do not scare your customers with 10 page contracts like they do! After all, who wants to sign a document for a small home improvement that is longer than the documents the home owner signed to BUY THEIR ENTIRE HOME! Word Based forms make a "home grown" looking document that customers distrust. Our software makes a professionally typeset document that looks better than a commercial print shop can do!
Available in versions legally specific for ALL 50 STATES including CALIFORNIA, Nevada, Florida, Texas, Louisiana, Georgia, Washington, Oregon, New York state versions. Each of the versions of our software is Trade Specific and State Specific! Our forms are not GENERIC. Whenever state law changes, we immediately update our forms so you will always get the most current forms possible.
Our software allows you to easily change and modify the forms any way you wish!
Fill Out the form on screen, then print the completed form on plain paper or carbonless paper- we'll show you exactly how. You do not have to loose the convenience of NCR Carbonless forms when using our software!
Software is optionally custom made for you with your company information, names, LOGO etc. already included on each form to save you time and get you up and running quickly!
Costs less than the price of 1.5 hours in front of most construction attorneys!
And it's so EASY, EASY, EASY to use!!!
Give your Company the Image with your potential customers that will make your bid the WINNING bid! Get a leg up over your competition by using ACT Contractors Forms Software!
FEATURES

ACT Forms On Disc

Fill Out & Print Forms on your PC/Laptop/Tablet or

MAC Running Windows

YES

Print Blank Forms on your PC/Laptop/Tablet or MAC Running Windows to fill out by hand

YES

Use on a laptop in the field with a portable printer

YES

Unlimited Form Printing.. no usage fees

YES

Change Company Info... Add, change, or delete anything on the forms.. or create new forms

YES

California Contractors Law Version

YES

New York, Texas, Nevada, Washington, Florida, Georgia, Louisiana & Oregon Contractors Law Version as well as

VERSIONS FOR EACH OF THE 50 STATES!

YES

Version made specifically for General Contractors and Other Trades TOO!

YES

Works with Windows 8, 10, 11

YES

Full Version Includes 65+ forms and contracts, EVERYTHING YOU SEE BELOW & MORE!

YES

Stand Alone Software Program with the features you need.

YES

Save completed forms to Hard Drive

YES

Add, delete or change anything on forms or create forms from scratch

YES

We customize with your LOGO, Company Name, & other Company Information

YES

Don't Tell... SHOW! Add your Job Photos directly to any form from your digital camera

YES

Convert any Form to PDF to easily and securely transmit the form by EMAIL to your customers

YES

Print Forms in color, WITH PHOTOS!

YES

Spell check Forms

YES

Create Other Documents like brochures, business cards, door hangers etc.

YES
Included in ACT Forms Software for Contractors & Subcontractors
(note that all samples are California Versions and that forms in

red
are California only)
CLICK ON ANY UNDERLINED DESCRIPTION BELOW TO SEE A SAMPLE.
WARRANTIES: (2 forms)
CONTRACT MANAGEMENT: (24 forms)
BIDDING: (11 forms)
GETTING PAID:
MISCELLANEOUS OPERATIONAL FORMS
Optional Marketing Package includes Templates for Creating the Following:
Company Brochure Template
Display Ad Template
Classified AD Template
Price Guide Template

ACT Forms Software For Contractors & Subcontractors Pricing- ALL 50 STATES
BOUGHT A FULL VERSION OF OUR SOFTWARE AND NEED ANOTHER TRADE IN ADDITION TO ROOFING?
ADD A SECOND TRADE TO ACT CONTRACTORS FORMS SOFTWARE FOR $160 MORE!
BOUGHT A FULL VERSION OF OUR SOFTWARE AND NEED FORMS FOR ANOTHER STATE

?
ADD A SECOND STATE

TO ACT CONTRACTORS FORMS SOFTWARE FOR ONLY $175 MORE!
Description

SKU #

Price

DELUXE CUSTOM CALIFORNIA VERSION- ACT Contractors Forms Software for California Contractors with every form- Customized- we place your company information/LOGO on each form & includes the report on "How to Print Your Own Carbonless Forms Right From Your Own PC" Free. This version meets the current, 2023, California State Contractors laws (CSLB).... OUR MOST POPULAR FORM SOLUTION FOR CALIFORNIA CONTRACTORS! THOUSAND OF CALIFORNIA CONTRACTORS USE THIS SOFTWARE FOR THEIR FORMS and... WE HAVE SOLD A BUNCH OF THESE TO CALIFORNIA ATTORNEYS' TOO!

SPECIAL! FOR A LIMITED TIME GET THIS VERSION WITH ONE OPTIONAL ADD-ON (Insurance, Marketing or Independent Contractor)... FREE! UP TO A $150 VALUE... FREE!

Click on your version below for a catalog...

$429

CUSTOM WASHINGTON, OREGON, FLORIDA, TEXAS, LOUISIANA, NEW YORK, NEVADA and ANY VERSION SPECIFICALLY FOR ANY OTHER OF THE 50 STATES EXCEPT CA - ACT Contractors Forms Software for Contractors & Subcontractors with every form- Specific State Laws- Customized- we place your company information on each form & includes report on "How to Print Your Own Carbonless Forms Right From Your Own PC" Free

SPECIAL! FOR A LIMITED TIME GET THIS VERSION WITH ONE OPTIONAL ADD-ON (Insurance, Marketing, or Independent Contractor)... FREE! UP TO A $125 VALUE... FREE!

FOD3

$359

BASIC CALIFORNIA VERSION-ACT Contractors Forms Software for CA (Contractors with the 15 essential forms needed for your business- Customized- we place your company information/LOGO on each form. This version meets the current, 2023, California State Contractors laws (CSLB).

FODHBCA- C20


FODEBCA- C10
FODPLUBCA- C36
FODLBCA- C27
FODSBCA- C53

$299

BASIC VERSION FOR ALL STATES EXCEPT CA-ACT Contractors Forms Software for Contractors IN ALL STATES EXCEPT CA with the 15 essential forms needed for your business- Customized- we place your company information/LOGO on each form. This version meets the current, 2023, LAWS OF YOUR STATE.

FODB

$269

MINIMUM CALIFORNIA VERSION ACT Contractors Forms Software for California Contractors & Subcontractors with any 5 forms, you choose 5 forms from the list above- Customized- we place your company information on each form. This version meets the current, 2023, California State contractors laws.

FOD5CA

$249

MINIMUM VERSION FOR ALL STATES EXCEPT CA-ACT Contractors Forms Software for Contractors IN ALL STATES EXCEPT CA - ACT Contractors Forms Software for Contractors & Subcontractors with any 5 forms, you choose 5 forms from the list above- Customized- We place your LOGO and company information on each form. Meets the latest laws of your state.

FOD5

$219

Optional Insurance Package Add-On includes all the most sought after forms for an Insurance Restoration Contractor. Includes (5) different contingency agreements, releases for direct pay, Insurance Contracts, Recoverable Depreciation Invoice (profit & overhead), supplements (supplemental claims), insurance bid forms that follow Xactimate, Mold Remediation Agreement, Damage Mitigation Agreement (board ups, dry outs and tarping), completion certificates and more...

INSURANCE

$150

Optional Marketing Package Add-On includes templates for making company brochures, newspaper ad templates, templates for making your own door hangers, template to make your own price guide. Includes information on where to buy supplies and also includes suggestions for using these marketing documents in your business.

MARKET

$125

Optional Independent Contractor Package Add-On includes construction specific independent contractor agreements for independent salespersons as well as a "blanket" subcontractor agreement. These are to spell out the terms that create an independent contractor relationship between the contractor and salesmen or subcontractor. These forms are very protective for the Contractor!

INDEPENDENT

$125

Optional Flash Drive Install (for computers/laptops/tablets without DVD drives) COST IS FOR THE HARDWARE

FLASH

$20

Optional Download Install

(SAVE SHIPPING TIME AND CHARGES SO...if you are in a hurry and having physical media is not a problem and you have good broadband internet, THIS IS A GREAT ALTERNATIVE)
DOWNLOAD
$25

Let us show you "How To Print Your Own Carbonless Forms Right From Your Own PC" Shows you how to print your own carbonless forms right from your own PC. Includes what paper to use, where to buy it, how to place it in the printer, how to bind the pages... and more!

*This Report is FREE SEE THE ABOVE SPECIAL OFFER

REPORT

$40 or FREE*